Adding new folders and moving videos to them to declutter the video library viewing.
As you upload videos into your library, you'll notice that by default you have a library that does list every video.  Separating libraries by categories (practice, team, opponents, scouting, recruiting) will make it much easier to find what you are looking for. 
Go to the Video tab and Folder Manager. From there you can name and create as many folders as you need. 
It is as simple as inputting the folder's name and clicking Save.
Once set up, you can move the corresponding videos into the appropriate folders which will help a lot as your overall library grows. They will still show up in the Main Library
 , in case you misplace something and can find based on the event date. 
Your other folders will be listed below Main Library where you can toggle to view the videos saved to each folder.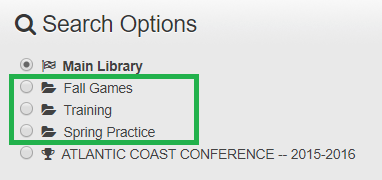 Saving Videos to Folders post upload
If the video has already been uploaded first open the video.
Then choose the View/Edit Details option. 
Near the bottom of the details page select the folder you want the video to be in.
Saving Videos to folders during upload
On the upload screen you can select the folder icon
 which will bring you to a screen where you can select the folder you would like this video to be in.